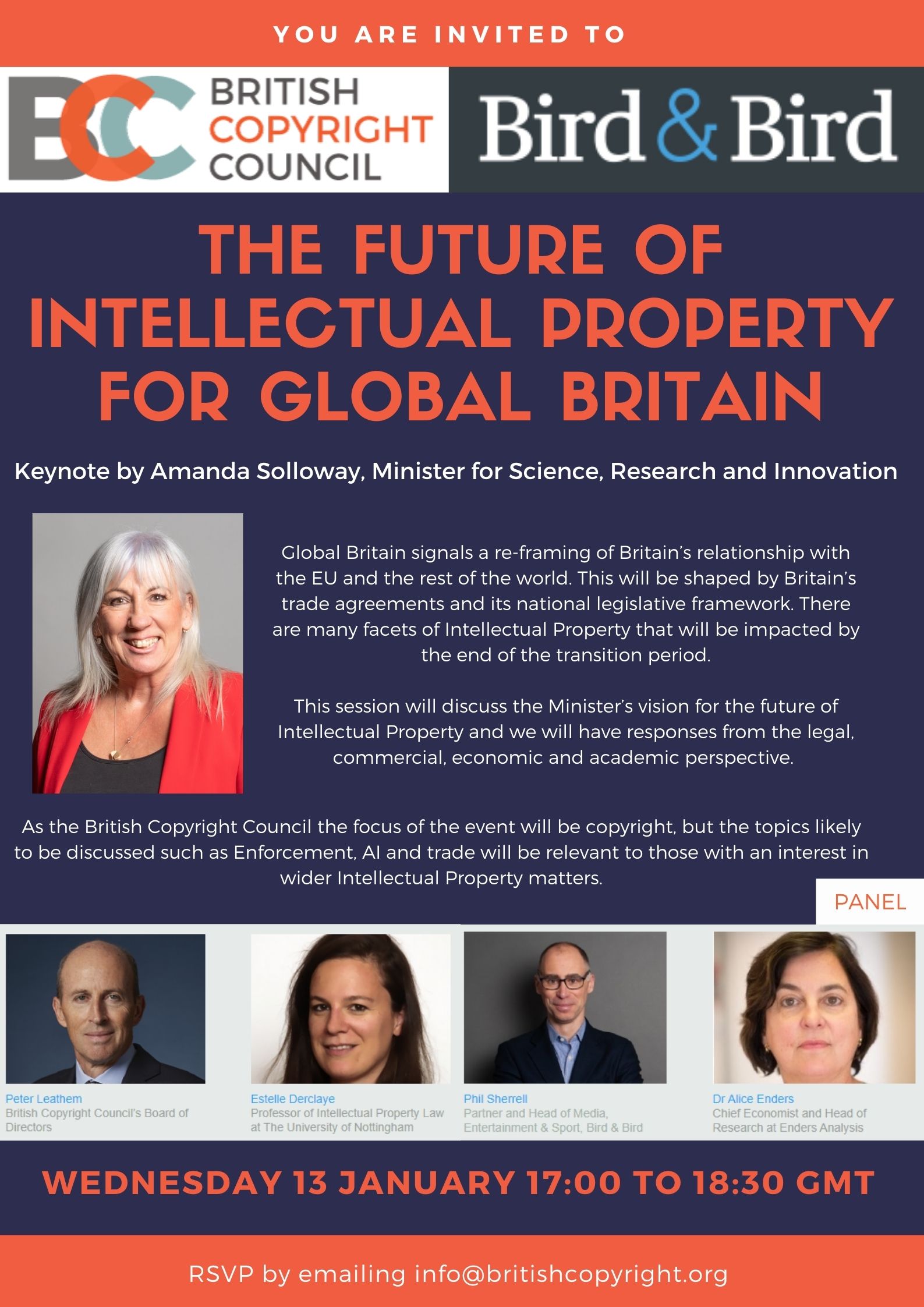 13 January 2021, 5pm – Webinar
The future of Intellectual Property for Global Britain 
Global Britain signals a re-framing of Britain's relationship with the EU and the rest of the world. This will be shaped by Britain's trade agreements and its national legislative framework. There are many facets of Intellectual Property that will impacted by the end of the transition period. This session will discuss the Minister's vision for the future of Intellectual Property and we will have responses from the legal, commercial, economic and academic perspective.
As the British Copyright Council the focus of the event will be copyright, but the topics likely to be discussed such as Enforcement, AI and trade will be relevant to those with an interest in wider Intellectual Property matters.
 17:00 Welcome: by the British Copyright Council 
 17:10 Keynote: The future of IP for Global Britain by Amanda Solloway MP, Minister for Science, Research and Innovation (10 minutes speech followed by Q&A)
 17:40 What are the copyright priorities for the creative industries in a Global Britain? 
Panel and Q&A, chaired by Phil Sherrell, Partner and Head of Media, Entertainment & Sport, Bird & Bird
 Dr Alice Enders, Alice is Chief Economist and Head of Research at Enders Analysis. She undertakes landmark research on the challenges and opportunities for creative industries in the digital age. Alice supplies consultancy services on music, licensing and B2B media. She is a former senior economist at the World Trade Organisation and was professor of economics at York University, Canada. Alice holds a doctorate in economics from Queens University, Canada. 
Estelle Derclaye, a Professor of Intellectual Property Law at The University of Nottingham. She holds degrees from the University of Liège, The George Washington University and London. Before joining Nottingham, she practiced intellectual property in an international law firm in Brussels. She is particularly interested copyright and designs law, IP overlaps, and IP and well-being. She has served on a number of expert groups, feeding directly into the UK's Intellectual Property Office and had visiting scholarships across the world, from California to Melbourne and Singapore.
Peter Leathem, is on the British Copyright Council's Board of Directors. He joined PPL as Head of Legal and Business Affairs in 2002. Following several senior positions within the company, he was appointed to the position of Chief Executive Officer in January 2012. Prior to joining the company, he was a partner for eight years with City law firm GSC Solicitors, where he specialised in intellectual property and was Head of the Intellectual Property Department. He sits on the Board of a number of industry bodies, including being the Chair of the British Association for Performing Arts Medicine.
18:30 Close
Open to members of the British Copyright Council. 
Apply for a place by email to info@britishcopyright.org